Vietnamese Instruments,Instruction Manuals, Replacement Supplies & Spare Parts
Dan Tranh Video Instruction DVD or VCD -Language Vietnamese-Price $19.50
Dan Tranh, Lesson Manual 1 (beginning), Text Vietnamese, Music-standard western format Scanned to a CD-
plus above mentioned Tranh Instruction DVD Price $27.50
Dan Tranh, Lesson Manual 2, Text Vietnamese, Music-standard western format-Price $16.50 Sold Out
Dan Tranh, Lesson Manual 3, Text Vietnamese, Music-standard western format-Price $16.50 Sold Out
Dan Tranh, Lesson Manual 4, Text Vietnamese, Music-standard western format-Price $16.50 Sold Out
Dan Tranh Replacement Strings, Standard set 17 strings-Price $18.00
Dan Tranh Replacement Parts,bridges, string pegs,tuning wrench, foot,Bridge-$5,Peg-$5,Wrench-$15,Foot-$10
Dan Tranh Complete Tassel & Bridge Set for standard 17 strings-Price $47.00
Dan Tranh Finger Picks- set of 3 metal picks-Price $5.00
Dan Tranh Finger Picks=set of 3 Plastic (adjustible) picks- Price $19.50
Dan Bau replacement String Price $5.00
Dan Bau Instruction Manual-Text Vietnamese-Music standard western format- Only a few left-Copy quality poor but acceptible
-Price $16.50
Dan-Bau-Study Manual by Bui Lam- Text Vietnamese (music Western) + FREE English Companion + Dan Bau Video Instructions-Both Bui Lam manual and the English language companion have been scanned and put on CD. Price $34.95
Dan Bau Video instruction Disk- (DVD or VCD)) spoken language- Vietnamese Price $16.50
Dan Bau Nipper-(Voi Dan)-Whammy Bar (Lacquered Buffalo Bone Flexible Rod) plus Gourd $45.00
Dan Bau Plectrum (pick)- (about 9cm) Price $6.00
Dan Bau electric pickup unit-Price $34.50
Dan Bau tuner and string holder assembly)-Inquire for Price



Individual tassels for Dan Tranh, Dan Sen, Dan Nguyet, Dan Doan, & most instruments-Price $5.00
Dan Co (Nhi) Instruction Manual (Vietnamese) Book or eBook,Price $16.00
Nhac Khi Dan Toc Viet Nam-Study Book for Viet Violin Family-Ha Noi 1984 $18.50
Tu Hoc Dan Vong Co guitar instruction book ( see photo below).45 pages, eBook.some tablature, some western music notation, plus useful illustratons Very Rare-Price $25.00
Dan Day Instruction eBook (English) Price $15.00
Dan Nguyet Lesson Book. (This is a rare book)-Text Vietnamese- useful for Dan Sen also- Price $25.00
Nhac Khi Dan Toc Viet Nam-Rare Book Of ALL Vietnam Musical Instruments-Ha Noi 1984 $35.00
Song Loan. Used to audibly mark a section of music-Price $25.00

Note: these prices do not include shipping and processing to your country. Please inquire.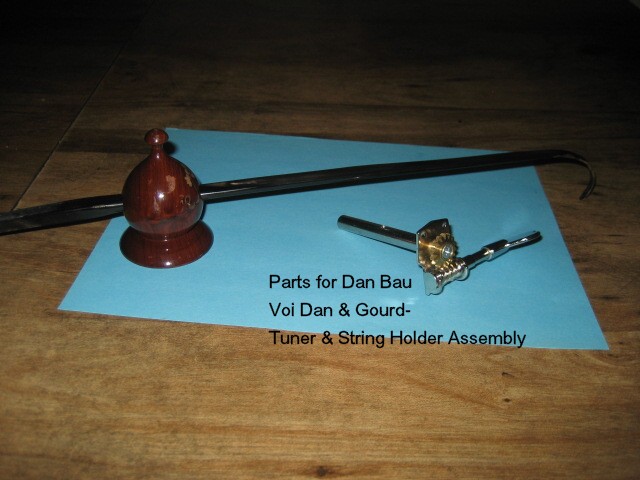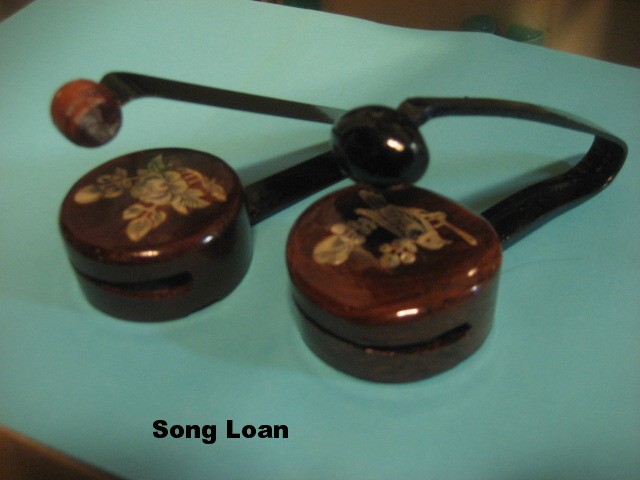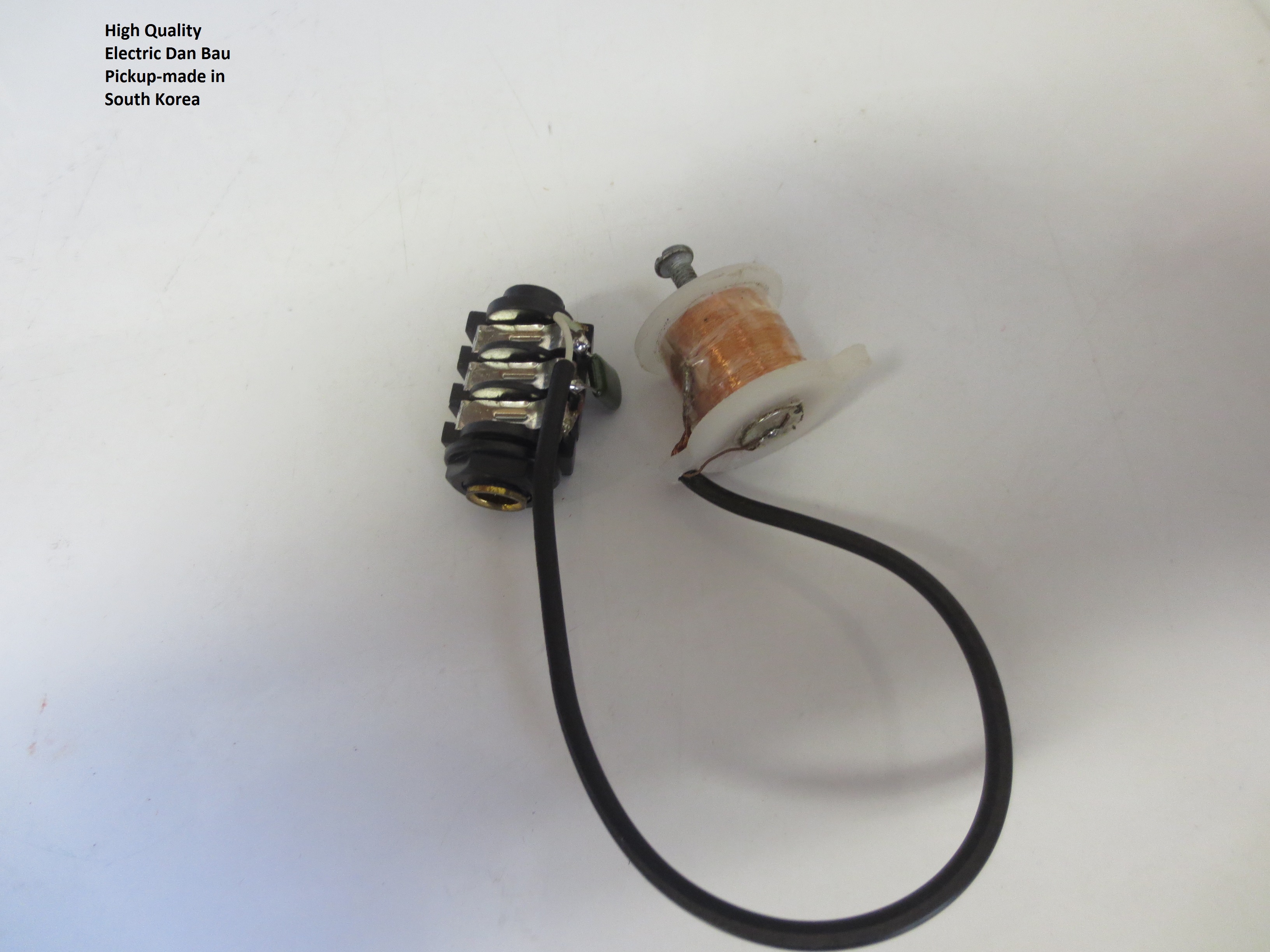 Brief Description of Instrument
Please inquire for instrument prices and shipping to your country. See below instrument descriptions. for instrument supplies, instruction manuals, ect. see above. If you are a retail store or interested in ordering any of these instruments or supplies in quantity, we offer wholesale discounts. Please provide details and and tell us what you are interested in, where you are located and in what quantity for a quote.


------------------------------------------------------------



Moon Lute
Dan Nguyet (moon) or Dan Kim
A 2-string with name refers to shape of the sound box. Unlike the Chinese yue'k'i`n, Dan Kim has long, slender fingerboard with unequal frets which allows extreme modulations. Similar to the Cambodian chapey deng veng. We have both pearl shell inlay decorated and undecorated Dan Bguyets. Inquire for price.






Sun Lute
Dan Nhat (sun) or Dan Doan (short)
Dan Nhat has five strings and short, slender fingerboard with unequal frets which allows extreme modulations. Inquire for Price





Dan Ty Ba
Dan Ty Ba is a four-string. It has a pear-shaped body and a neck with a fretted fingerboard that is usually bent just below the tuning pegs. Similar to the Chinese P'i P'â. Size: 37" L X 9-1/2" W. We have both full size and half size Ty Ba's as well as soft or hard shell cases. Inquire for Price.






Dan Tam (3), Cai Tam, or Cai Dan Huyen Tu
Dan Tam has 3 strings, keyless/fretless fingerboard and ivory capotasto. The neck and cylindrical sound-box are typically decorated/covered with snake skin or alternately turtle skin. Inquire for prices.





Dan Sen
Dan Sen is a 2-string, 14 keys instrument. It is only used in the Hat Boi (Traditional Drama) in South Viet Nam. Inquire for price.






The Singer's Lute
Dan Day or Dan Nha Tro
Dan Day is used to accompany the A-Dao (professional singers) in North Viet Nam. Please inquire for price.

Dan Nhi or Dan Co
A fiddle played with a bow, having 2 strings tuned at intervals of a fifth, an unfretted fingerboard, and a pipe-bowl-shaped sound-box. It is capable of great flexibility in range, tone, and dynamics. There are 3 holding positions: The cornet is presses against the musician's hip as he/she walks. The wooden resonant box is held between the musician's knees sitting on a stool. The cylinder is held between the musician's feet in sitting position. Dan Nhi is called Dan Co in South Viet Nam. Inquire for price

Dan Gao or Dan Ho
Slightly bigger than the Dan Nhi with hemispherical resonance box made of coconut. Its sweet sonority resembles that of cello. Same holding positions as of Dan Co. Inquire for Price





Monochord
Dan Bau or Dan Doc Huyen
An acoustical instrument consisting of a sounding box with one string and a movable bridge, used to study musical tones. The instrument's string stretchs over a trapezoidal wood soundboard. The soundboard is made of the hard rind of the bau (type of gourd). Subtle ornamentations, glissandi sounds, and imitation of the human voice could be produced by simultaneously plucking the string and pulling the ancient whammy bar. The whammy bar is a flexible bamboo stem which attachs to one end of the soundbox. Some newer models are desgined to fold in half for easy transport. Sound quality is more subtle and quite with the acoustic Dan Bau, while the electric Dan Bau is more robust and fuller sounding. The acoustics of the non electric model depends greatly on the room you are playing in. These are beautiful and very interesting instruments. We offer both pearl shell decorated and undecorated in both fold-up and straight Dan Bau's, as well as soft or hard shell cases for both.






Dan Tranh or Thap Luc (16)
16-21 string zither composes of a flat sound box with strings stretched over it and played horizontally with the fingertips or a plectrum. Similar to the Chinese tcheng, strings are supported by movable wooden bridge for tuning. Size: 38" L X 6" W (small end) X 8" W (big end). Instrument Defination: "tranh" : to dispute, to quarrel) According to ancient legends, the Vietnamese zither originality had 32 strings. A zither master taught the art of playing this instrument to his 2 young daughters. One day, these 2 young women argued about who was to play the only musical instrument in their house. The master, very angry, broke the instrument in two and made 2 identical 16 stringed zither to please each of his daughters. This is why the instrument is called tranh, which means "to dispute".This is a high quality-professional instrument, with beautiful pearl shell inlay artwork. The sound board is made of Ngo Dong wood, and the side wood is Cam Lai. These woods are used for the best resonance. We offer many grades of Dan Tranh in both decorated and undecorated styles, as well as hard shell or soft case. Note: We have shipped many Dan Tranh's all over the world and found that the soft-well padded carry case, (well packed) offers the best shock protection for shipping. Please inquire for prices, styles and additional photos not shown on this website.









Back To Main Page